Designed to reduce pressure on your back while carrying a toddler, it's practical, comfortable, easy to use, and has been endorsed by Osteopaths, Physiotherapists and Health centres.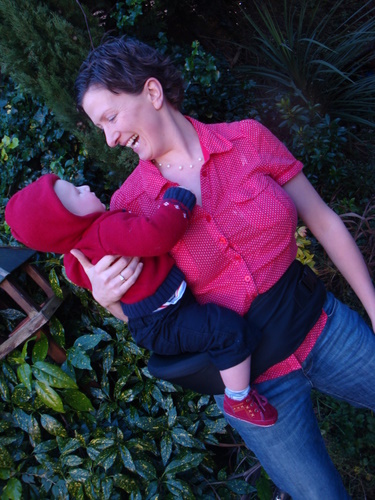 The Hipster
Qualities
The Hipster – Made from very durable fabric, is fully adjustable to suit all shapes and sizes, provides a secure Velcro and Buckle closure, has two secure inner pockets, is hardwearing, practical, and light-weight. It's more a necessity than a luxury item as your back needs all the protection it can get and it's an excellent alternative to taking a buggy. The Hipster is machine washable and therefore more hygienic for everyday use. (To wash, simply unzip and remove seat and padding from cover).
Suitable for babies from 6 Months Old and Upwards to 3 Years (depending on the weight). When the kids out grow the seat it can double as a storage bum bag.
Call 086 856 5660 to order one now. Reduced to €25 + postage, email: order@hipster.ie
"It's a must have for every family or person looking after young toddlers, making it a very useful and practical gift."
"God knows who can afford to have a back problem these days."
Health Benefits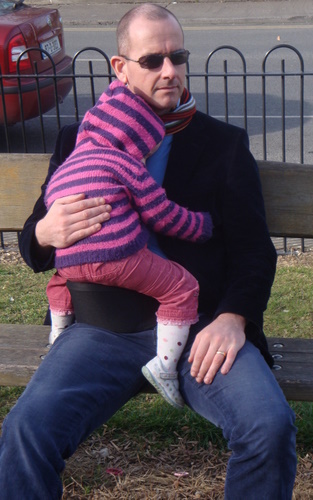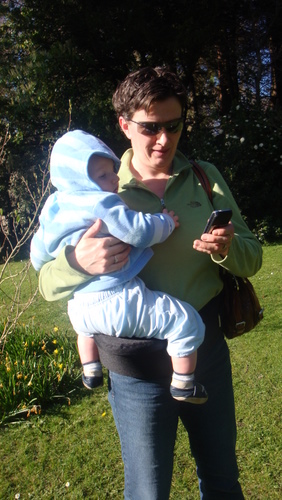 The Hipster can act as a back supporting belt, with its padded, angled, foam shelf, (for the child to sit on) developed to allow adults to carry their children easily by spreading the load across the pelvis preventing back injuries and supporting the child's increasingly heavy weight from underneath. Instead of twisting the spine, the back stays straight and the child is tucked into the chest.
Children after about six months of age are generally too heavy to carry in over the shoulder slings/harnesses and could actively strain the spine and muscles
(Note: For safety one must always support the child with one hand whether the child is facing outward or inward)
Over the shoulder slings or harnesses are very good for very young children but after six months (depending on the weight of the child) they could actively strain the spine and muscles, adversely affecting one's posture and pulling the back out of shape.
How to wear the Hipster
Position the Hipster above the left or right hip, breathe in and close Velcro belt as tightly as possible. The more comfortable and tight the fit the better support for your back.

Close the clip and tighten the strap to your comfort level. The strap will support the Velcro.

(Note: For safety one must always support the child with one hand whether the child is facing outward or inward)
Helpful Hints
Putting it to use –
(Pushchairs and prams can be awkward to manoeuvre and are not always allowed into premises).
· around the house - in the kitchen, with a sick or demanding child etc.
· out on short trips - where a buggy can be cumbersome
· school runs - holding a younger child while dropping the older kids off
· shopping – where one needs to "pop in" somewhere quickly
· the beach / forest walks or picnics - where buggies may get stuck in sand or mud or even on rough terrain
· it's terrific at the airport or train station - pushchairs and buggies (especially folding them one handed!) can be a problem
· standing in queues – at the airport, in the church etc.
· out walking - kids get tired while out for walks but don't necessarily want to get into the buggy
· limited space available - where buggies may just be in the way
· walking or standing around at a fair or special events – too crowded for buggies
(Note: For safety one must always support the child with one hand whether the child is facing outward or inward)
What you say about the Hipster
| | |
| --- | --- |
| "I'm very glad I had one when I was standing with my little boy at a parade recently." | Trudy McCarthy, Mother |
| " I found the Hipster brilliant around the house especially when I was working in the kitchen." | Mairead Dillon, Mother |
| "We couldn't have done without it on our holidays going through the airport and in the subway." | E Treacy , Mother |
| "It's a life saver when we go for walks and the kids get tired they just 'hop on board'." "We never leave home without it." | C O'Neill, Mother |
Consult your doctor before wearing if pregnant.
If another number falls off next month am I expected to keep paying for repairs to faulty goods, that is not
rolex replica
nor acceptable. I will take a chance in a week or so but if there is an issue with a watch that I
rolex replica uk
from you I do not want to hear well you will have to pay the postage back or we can't help you because we do not give refunds. remember I will have this email saved for proof. Please also know I am
replica watches sale
getting ready to graduate and I will have my degree as a Lawyer and will take
replica watches
steps to remedy any issue that comes up with your company. Will be ordering another one today. I was a bit concerned as I tried ordering through another website before and I never received it. Really happy with the service from you thus far. Hoping you can help me with the
replica watches
questions for the next purchase.